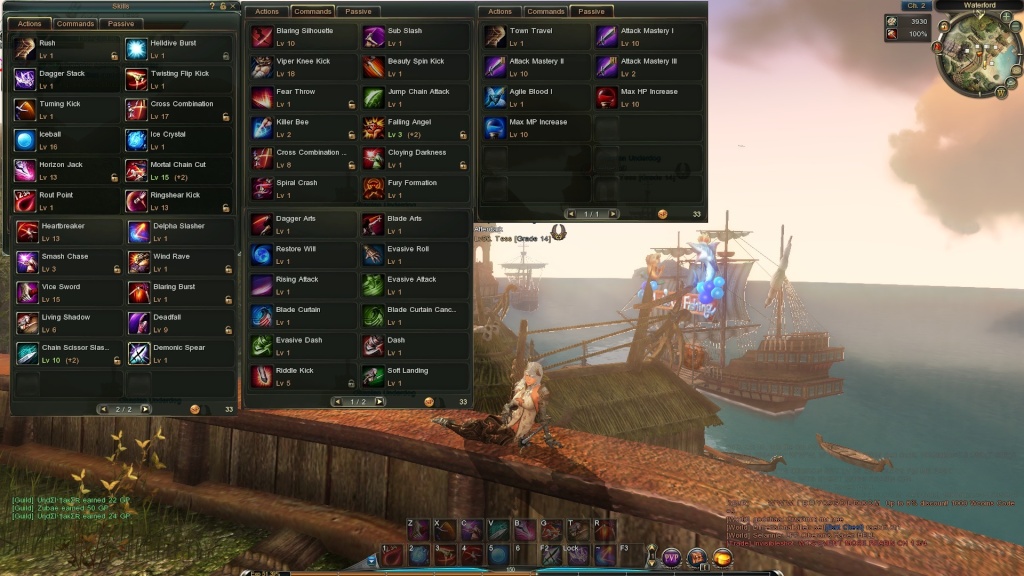 Some skill explanations : Max Iceball to freeze your enemies! Frozen enemies can be grabed no matter if they are frozen on the ground or in the air! Note: Mortal Chain Grab doesn't work on Frozen enemies on the ground + frozen enemies on the ground can't be knocked up!
Horizon Jack is good to poke your enemies. With the DoT(damage over time) effect you deal around 1k damage + the damage from vice sword and it may apply the bleeding effect of vice sword = tons of damage while being safe.. if you can hit it of course. Horizon Jack needs one dagger per use. If you dont have any daggers left you won't be able to attack wiht the left mouse button and you can not guard (Q). Dont forget to stack your daggers  ( max 3 with dagger slinger passive 4 )using Dagger stack.
You will need the MP passive or you will run out of mana for combos too fast.
Agile blood only lvl one, upgrading it would cost you alot of points for a low amount of stats.
If you have any questions feel free to ask them, i would be happy to help.
PS im not a pro player and this may not be the best slayer build but i think it works well.
In this Video i show you:
1. Horizon Jack + Vice Sword damage
2. Iceball freeze+ pick up
3. Slayer combo (Note this is not the best or strongest combo. Its just a simple combo you can do with no attack speed[104]and no Cooldown reduction.)
PS this combo is over 25 seconds long meaning their evasive will be up at some point during it
Last edited by DiktatorKaiUwe (Kilian) on Wed Jul 29, 2015 9:08 pm; edited 4 times in total
well frozen enemies on the ground can b knocked in the air with ringsher kick but not as soon as they r frozen after like 2 -3 secs u can actually make them fly in the air




Posts

: 11


Join date

: 2015-07-02



Yeah thats because the duration of the CC (crowd control) is over, kind of risky if you ask me

Nice Killy! good job, looking forward for more

Admin




Posts

: 46


Join date

: 2015-07-01


Age

: 22


Location

: Halmstad



yeah but that still works , its a gamble u see

u either play safe or risk it and  who knows that move might win u the game / round




Posts

: 11


Join date

: 2015-07-02



well you can just grab them to be sure or hit them once and then use ringshear kick because the freeze effect ends once you get hit
Similar topics
---
Permissions in this forum:
You
cannot
reply to topics in this forum